At the time, the pass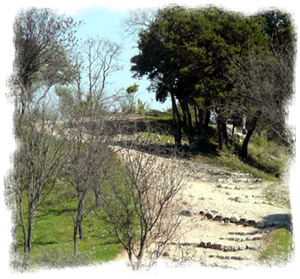 of Thermopylae consisted of a track along the shore of the Gulf of Malis so narrow that only one chariot could pass through. On the southern side of the track stood the cliffs, while on the north side was the gulf. Along the path was a series of three constrictions, or "gates" (pylai), and at the center gate a short wall that had been erected by the Phocians in the previous century to aid in their defense against Thessalian invasions. The name "hot gates" comes from the hot springs that were located there.
| | |
| --- | --- |
| (1 photo) | (3 photos) |
Today, the pass is not near the sea but is inland due to infilling of the Gulf of Malis. The old track appears at the foot of hills around the plain, flanked by a modern road. It still is a natural defensive position to modern armies.
| | |
| --- | --- |
| (1 photo) | (3 photos) |
Permission is granted to copy, distribute and/or modify this article under the terms of the
GNU Free Documentation License
, Version 1.2 or any later version published by the Free Software Foundation. (
What does it mean?
)
The text is based on material from the Wikipedia article
"Battle of Thermopylae"
. Modifications, additions to the Wikipedia text and all the photos by the website author.